What does Joanne do?
As a professional Web Site Designer / Front-end Developer, she has helped many small businesses develop and enhance their presence on the web. Designing and managing web sites for more than twelve years; her experience goes beyond the scope of a 'designer' in the literal sense, in that it has concentrated mainly on coding the aesthetic structure, as well as, implementing CSS and HTML markup language to accurately reflect design intentions. In the last several years she has had the exciting opportunity to build on her experience and work in a team environment, creating and developing highly sophisticated functional and interactive web sites. With this focused direction Joanne provides expert skills to fill a frequent need in the industry — designer facilitates backend developer.
How does she do it?
Whether the project is self directed or of a team nature, her role often crosses design and technological boundaries. Using a combination of web design skills and technical knowledge of how web pages are created and function, her proficiencies include: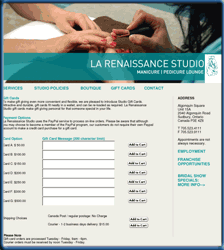 expert CSS, HTML, XHTML markup skills;
coding proficiency and familiarity using web design languages with various markup and development environments: i.e. XML / JS / JQuery / .ASP / .NET / AJAX / .PHP;
using graphic design products, such as Photoshop CS4 and Flash, for visual enhancement effects;
hand coding and using code-generating software, such as Dreamweaver, Visual Studio, etc.;
front-end developing with Content Management Systems (CMS), such as Umbraco and Ekron software products;
producing designs that are attractive and consider functionality and ease of use;
formatting images and other design elements for implementation using best web optimization practices;
social media custom page skinning i.e. Facebook custom pages front-end enhancement developer, as a member of Definition 6 LLC., Cox Enterprises / Storage Post - Find a Location
quality assurance testing, trouble shooting and resolving cross browser variances to achieve display standardization;
email marketing, creating html email for professional HTML email campaigns, using email marketing software, such as Exact Target, Constant Contact software products - i.e. front-end enhancement developer, as a member of Definition 6 LLC., Tensar Geosynthetics Application Newsletter / Sage Products - Accpac March Newsletter Landing Pages
publishing using software products, such as Microsoft Publisher, PowerPoint, Quark Express, etc.;
working within a team structure, providing web design skills to compliment and assist through development, implementation and maintenance stages;
communicating directly with clients and team members, to provide efficient and effective results;
participating in project planning, implementation and reporting activities backed by strong written, oral presentation and computer generated communication skills
professional demeanour and highly motivated attitude that fosters the goals of the company and its objectives
What can you expect from Joanne as an employee?
With strong organizational skills and work ethics, she prides herself in delivering a high standard product in a timely manner. These qualities, along with a keenness and willingness to contribute and a thirst to learn and evolve are what drive her. Joanne makes a positive and valuable contribution to the work environment, producing quality results.
Samples and Scope of Work